Long Distance Movers in Long Beach
Movers49 - Top-Rated Long Beach Long Distance Mover
The prospect of moving can be an overwhelming and perplexing experience, especially when the distance involved is long. This is precisely why it's imperative to enlist the services of a reliable and efficient long-distance mover in Long Beach. Enter Movers49 – one of the most reputable moving companies in town that prides itself on providing stellar customer service alongside professional movers who are sure to make your move as smooth as silk.
As masters in their craft, Movers49 boasts years of expertise in handling moves across various locations throughout the country. Their team comprises experts who are well-versed with handling all types of items, from delicate antiques to bulky furniture pieces – no item is too small or large for them! They employ cutting-edge equipment and techniques aimed at ensuring that all your belongings arrive safely at their destination.
By selecting the reliable Movers49 as your go-to Long Beach mover, you'll have peace of mind knowing that every aspect will be handled competently and efficiently. From packing up your treasured possessions to unpacking them seamlessly at your new abode, they've got you covered! If a long-distance relocation looms on your horizon soon, don't hesitate – reach out to Movers49 today for impeccable service delivery!
PROFESSIONAL Long Distance MOVERS LONG BEACH CA
The prospect of relocating to a new abode in an unfamiliar location can be downright overwhelming, particularly if it entails traversing great distances. But fear not! If you're eyeing exciting city of Long Beach, CA as your next destination, then availing the services of an adept long beach moving company is imperative for utmost convenience.
Long Beach exudes a distinct West Coast charm with dashes of East Coast flair and panache – beckoning throngs of people seeking resplendent beaches, engaging cultural attractions and effervescent nightlife. Yet, undertaking extensive cross-country moves sans professional assistance poses a myriad of complications.
Thankfully, Professional Long Distance Movers in Long Beach CA possess unparalleled expertise in tackling all sorts of moves across diverse regions. They are intimately familiar with the obstacles that crop up when uprooting one's life to another state or country and boast ample resources to ensure safe transport for your possessions. Whether you require a commercial moving, or residential relocation solutions – fret not! These professionals offer affordable movers cost packages tailored to suit your individual needs.
Movers49 – A Trustworthy Long Distance Moving Company for Your Successful Move
When it comes to the daunting task of relocating, making the right choice in a professional company can make all the difference between success and failure. Enter Movers49: a team of reliable and trustworthy long distance movers who stand ready to assist you with your move from San Diego or anywhere else in this great land.
Our experienced local movers are well equipped to handle any type of move, be it residential or commercial. We understand that every move is unique, which is why we offer personalized services tailored specifically to your individual needs. Our packing services ensure that all your cherished possessions will arrive at their destination safely without any damage whatsoever.
At Movers49, transparency regarding moving costs is our watchword; we believe in competitive pricing and provide free quotes before beginning any work so there are never any surprises when it comes time for payment. Unlike other moving companies out there, with us there are no hidden fees lurking around the corner.
With years of experience under their belts, our trained Long Beach professionals take great care in handling each item during transport – treating them as if they were their own personal treasures. You can trust us completely with even your most valuable possessions knowing they'll be treated with utmost care throughout the entire process.
Whether you're planning on crossing state lines or just need help moving down the street, let Movers49 alleviate all your relocation woes by contacting us today for an absolutely free quote!
Our Reliable Long Distance Moving Services for Hassle free moves
Moving to a new place, oh what an adventure! But let's be real – it can also be daunting and downright overwhelming. That's where we come in; our dependable long distance moving services are tailor-made to ensure the best move and your transition is as stress-free as possible. We are Long Beach's crème de la crème of movers, boasting years of experience in the industry.
Our seasoned team of Long Beach movers will take care of everything from A-Z. We offer a multitude of services including packing and unpacking, loading and unloading, transportation options galore, storage facilities that'll make your head spin with delight – you name it!
You know what they say: good things come in big packages! Our spacious storage unit guarantees all your personal belongings will fit snugly inside for the duration of your move without any issues whatsoever.
We get it – hidden fees can sneak up on you when you least expect them causing panic attacks left right and center! Which is why we pride ourselves on transparent pricing with no nasty surprises or added expenses to worry about. With Movers49 by your side, impeccable service comes at an affordable price point so there's no need to break the bank!
What are you waiting for? Give us a call today for a complimentary quote on our exceptional long distance moving services here in beautiful Long Beach!
Movers49's Will Pack Everything You Need for a safe transport
Moving can be a bewildering experience, especially when it comes to the daunting task of packing. But fear not! With Movers49's comprehensive packing service, you can rest easy knowing that your household goods are in good hands. Our team of experienced packers will carefully wrap and box up everything from fragile items to heavy furniture with a burst of precision and care, ensuring that they remain protected during transportation.
Unlike other movers who may cut corners or use substandard materials, our dedication to quality is unparalleled. We take pride in our meticulous attention to detail and only utilize high-quality supplies for all your moving needs. We understand how valuable your belongings are to you, which is why we treat them as if they were our own – instilling an air of perplexity into anyone who dares question our commitment.
Our devotion has resulted in many happy customers who have rated us as one of the best movers in Long Beach – boasting an average rating of 4.9 out of 5 stars! Our philosophy revolves around making every move stress-free and seamless without any horror stories along the way – leaving everyone wondering how we did it!
No matter where life takes you next – whether locally or long distance – Movers49's has got you covered when it comes to heavy lifting and transporting your household goods safely. As part of our exceptional long-distance house moving package, professional packing services come included so that nothing goes amiss on this journey towards something new.
So why worry about packing when you could sit back, relax (with some perplexity) ,and let us handle all aspects of your move? At Movers49's we believe that life should always be full bursts excitement; which is exactly what awaits at your new home!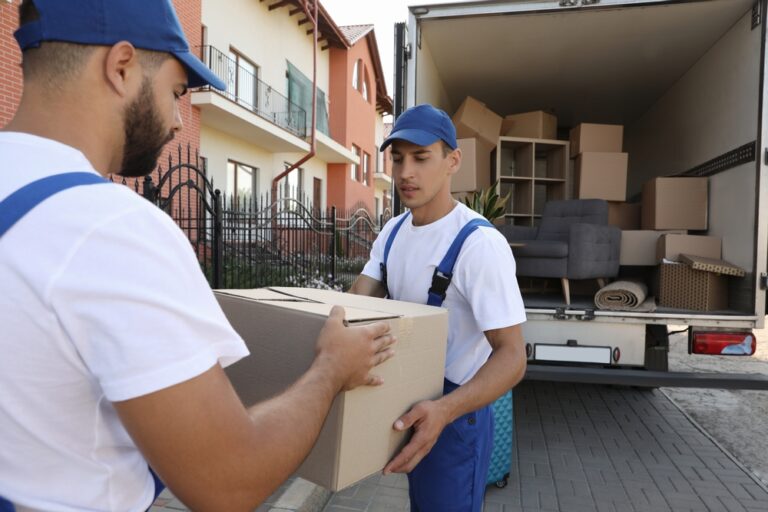 Get Your Belongings Insured With Movers49 Services
Movers49 is an enigmatic long distance moving company that bursts with energy to ensure their customers are left in a state of bewilderment. That's why we offer perplexing insurance options for your belongings during transit. We understand how vital your possessions are, and our goal is to provide you with mind-boggling peace of mind knowing that they are protected.
Our team of Long Beach movers crackle with intensity while handling your items, but unexpected jolts can happen even with the most seasoned moving companies in Long Beach. That's why we offer different insurance options tailored to fit beyond belief needs and budgets so astounding that it will leave you speechless. Whether you're moving across town or across the country, Movers49 has got all bases covered like never before.
We take enormous pride in being one of the top-rated long distance movers Long Beach CA has ever seen! Our job isn't just about transporting your belongings from point A to point B; it's about providing extraordinary service every step of the way. So when planning for your next move, choose Movers49 and let us handle all aspects effortlessly stress free moving experience! – including insuring your precious cargo as it travels on our truck past landmarks like Queen Mary which will give you goosebumps!
Save Money with Our Long Distance Moving Services
The whole process of moving can leave a dent in your wallet, especially when it involves long distances. However, Movers49's exceptionally professional and reliable long distance moving services have got you covered! We offer the perfect solution to help you save money without sacrificing quality during your move. Our team of expert movers in Long Beach CA takes pride in creating customized plans that cater to your unique needs and budget.
We understand how important it is to keep costs low while ensuring the safety and protection of your belongings. That's why we go above and beyond by offering secure storage options at affordable rates for furniture or other items during transit.
At Movers49, we believe that exceptional service doesn't have to come with an exorbitant price tag. Every home jump left behind requires meticulous attention and care – which is why our customizable packages are tailored specifically to each client's needs. Trust us as your long distance moving company; rest assured that you're getting unbeatable value for money without compromising on professionalism or quality.
In summary: Don't let the cost of moving weigh heavy on your mind! Choose Movers49 as your trusted professional Long Beach moving company for top-notch service at reasonable prices. With our comprehensive coverage from storage solutions to personalized plans based on individual preferences, we've got everything covered for seamless moves! Contact us today for a free quote and experience stress-free moves from start-to-finish!
Advantages of using our Long Beach long distance moving services
The prospect of relocating to a new abode can be downright overwhelming, especially if it entails traversing great distances. However, with Movers49's Long Beach long distance moving services at your disposal, you can breathe a sigh of relief and rest easy knowing that your prized possessions are in the hands of seasoned professionals who will orchestrate an impeccable move. Our team is relentlessly committed to making your transition as seamless and effortless as possible.
One perk that sets us apart from the competition is our capacity to save you money without compromising on quality. As we all know, moving companies in California can be exorbitantly priced but here at Movers49, we extend competitive rates that won't break the bank. We empathize with how crucial it is for you to adhere strictly to your budget during this moving process, and hence go above and beyond to make that a reality.
Adding another feather in our cap is our foolproof transportation method which guarantees safe delivery of all items entrusted into our care. We exercise utmost caution while packing and loading every item onto our trucks so they remain unscathed throughout the journey until they arrive safely at their final destination- your new haven! Our adept team has ample experience handling fragile items such as antiques or electronics so feel free entrust them with any item big or small!
At Movers 49 we take immense pride in being one of California's finest moving companies by placing customer satisfaction on top priority! From inception till conclusion, we ensure your entire move is an unhindered process facilitating stress-free settling into your new home sweet home!
The process of relocating can prove to be an insurmountable obstacle, especially when the journey spans great distances. It matters not whether your destination is within the state or across the country, as there is a host of items that demand careful packing and safe transportation. This reality underscores the importance of enlisting professional movers in your move size order to enjoy an unparalleled moving experience.
For long distance and local moves, Movers49 stands out among other entities in Long Beach by offering dependable and efficient services that are specifically tailored to meet your unique needs. Our team of seasoned experts will guarantee that every item you possess is packed with utmost care and transported securely.
At Movers49, we are fully cognizant of how crucial it is for our clients to adhere strictly to their budget while also receiving top-notch services. Hence, we proffer free quotes for all our long-distance moving solutions. By doing this, you can obtain an estimate beforehand on how much it may cost without making any hasty commitments or decisions.
Our free quote service boasts ease-of-use; simply fill out the form located on our website with some basic information about your relocation such as where you're headed and what articles need conveyance. Consequently, we will furnish you with a comprehensive breakdown of costs so that informed decisions can be made regarding how best to proceed without breaking the bank.
In summary, acquiring a complimentary quote from Movers49 for your long-distance move cannot be understated if one hopes for a seamless transition devoid of any unforeseen surprises along the way!
Here are some of the benefits of getting a free quote from Movers49:
Get an estimate beforehand on how much your move may cost

No hasty commitments or decisions required

Free quotes for all long-distance moving solutions

Complimentary service that is easy to use

Fill out a simple form on our website with basic information about your relocation

Obtain a comprehensive breakdown of costs

Make informed decisions without breaking the bank

Enjoy a seamless transition devoid of any unforeseen surprises along the way
Frequently Asked Questions